At the weekend, we'll witness a clash between two top 4 teams in the Premier League, fighting it out for the title. And no, it's not Manchester United, Chelsea, or Liverpool, but rather Arsenal vs Leicester City.
Leicester have defied the odds constantly all season. I'm sure if you've watched football in a pub, or listened to it in your car, or if you support a club that traditionally battles for the top 5 then you've heard or said things like "They'll slip away", or "it won't last." Regardless of the English cynicism, here we are: with 13 games remaining, Leicester are 5 points clear at the top of the Premier League.
Last week Leicester took on Manchester City at the Ethiad. Once again, there were talks of the inevitable slip-up, or that moment where this expectation-defying team revealed themselves to be average all along. But truth be told, Leicester were the better side throughout the game, and duly won 3-1.
Perhaps the reason Leicester have been counted out all season is that they go against what we've come to expect from a side battling for the title. Whilst clubs like Manchester United, Chelsea and Manchester City can rely on buying lavishly expensive players to bolster their squad, Leicester City have built a force without breaking the bank. It proves that all you really need is a man to create goal scoring opportunities (Riyad Marhez), and someone to finish those opportunities off (Jamie Vardy), and you can beat anyone. It also proved, on another note, that a 5,000/1 bet, perhaps isn't such a waste.
The meeting between Arsenal and Leicester becomes even more interesting when we factor in that this game is a must win for Wenger's side. Although they've done well this season against difficult opposition (3-0 Man Utd, 2-1 Man City), this is surely the biggest game of their season. Arsenal and Leicester have both displayed an ethos of keeping what you have and nurturing it, something which the present day game does not allow for.
If Leicester manage to beat Arsenal at the Emirates and go 8 points clear, you would have to believe that with just 12 games to go, they would become all-out favourites to win the Premier League this season (as strange as that would be for us all).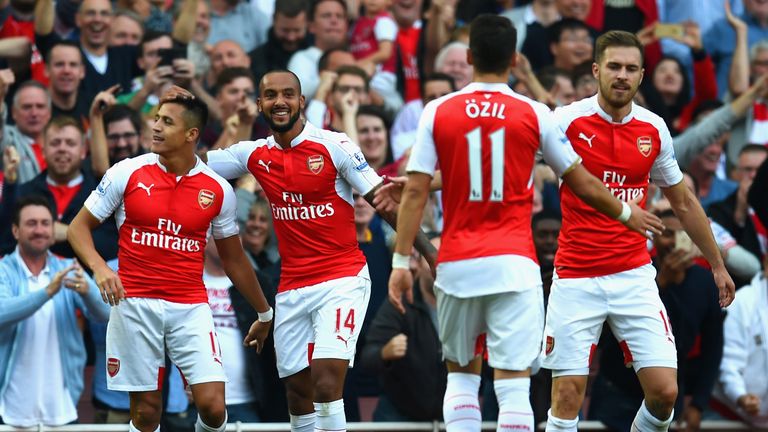 Arsenal have surprised in their own way this season, staying in the title race for longer than they have for the past few seasons, and with a much needed victory away at Bournemouth, Leicester will face an Arsenal team that once again believe in their scoring ability.