I'm sure you've heard the news; the news that if you support any of the other 19 teams in the Premier League that isn't Manchester City, then you will feel a slight feeling of fear and anxiety, along with a genuine feeling of surprise and disappointment that it didn't happen to you. That's right, Pep Guardiola has signed for Manchester City.
The move is a 3-year-deal, the duration which appears to be Guardiola's cut off point at his previous clubs (Munich & Barcelona). Regardless of this, the news has echoed around the blue half of Manchester, with shouts of Premier League supremacy imminent and whispers of Champions League success in the not-so-distant future (maybe now the supporters won't boo the Champions League theme tune).
This is the hype that comes with signing one of this decades most successful managers. And the hype is admittedly justified, given his incredible record so early in his career: winning the treble in his first year at Barcelona (2008-09), and following that up by winning La Liga in the next two successive years (all but his last). Similar league dominance has been exhibited in his first two years at the helm of German giants Bayern Munich (although Champions League success has alluded him so far).
Many have said before that Guardiola only inherits big squads, with great players, and loads of money, which has seen some reports reacting to City landing Guardiola as a sign of Manchester United's depleting relevance and influence in the Premier League. However, this is the only real criticism one can level at a manager with a 73.2% win ratio in their entire career.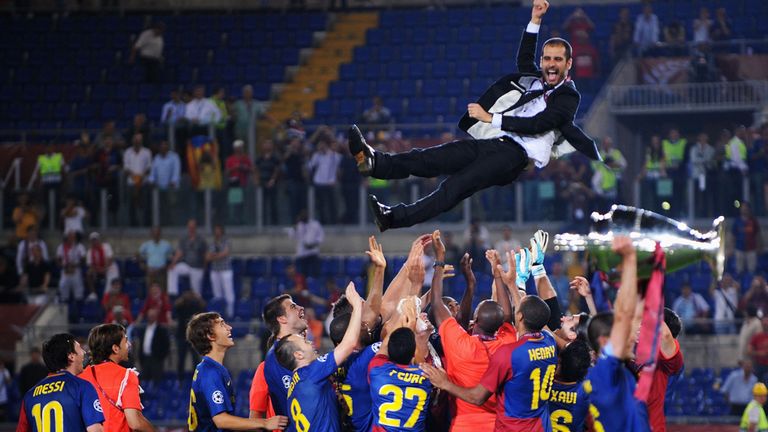 Many will wonder why Guardiola didn't take a team that isn't yet the finished article, and make them great. Like Mourhino did twice by 2005 (Porto and Chelsea), or Alex Ferguson did in the 90s with United, later followed by Wenger at Arsenal. With this appointments, these managers have proved themselves to be great, and perhaps arguably the greatest of the last 25 years.
Guardiola moving to Manchester City shows the same decision making he's always showed: Is the team already good? Do they have more money than the Greek economy? If so, I'll be there. This means three seasons of probable success, then after that, probably a move to PSG.